MongoDB Online Live Classes by Experts
Online MongoDB Training in Launceston
;
Our Training Process

MongoDB
- Syllabus, Fees & Duration
Module 1: Introduction to NoSQL
What Is NoSQL?
Why NoSQL databases are required
Types of NoSQL Database
NoSQL vs SQL Comparison
ACID & BASE Property
CAP Theorem
Benefits of NoSQL databases
Installation
Start and Stop the MongoDB process
Module 2: MongoDB Architecture
Document, Collection, Databases
JSON and BSON
Storage Engines
Read Path
Journaling
Write Path
Working Set
Capped Collection
Oplog collection
TTL Index
GridFS
Module 3: CRUD Operations
MongoDB Data Types
Inserting, Update, Deleting the documents
Querying the documents
Bulk insert operation
Updating multiple document
Limiting documents
Filtering documents
Module 4: Schema Design and Data modeling
Dynamic Schema
What is Data modeling?
RDBMS and MongoDB Data modeling difference
Embedding Document
Reference Document
Module 5: Indexes
Index concepts in MongoDB
Types of indexes
Indexes and its use cases
Creating Indexes
Managing Indexes
Index strategies
Module 6: Database Administration in MongoDB
Database status
Troubleshooting issues
Current Operations
Rotating log files
Users and Roles
Copy and Clone database
DB and Collection Stats
Explain plan
Profiling
Changing configuration files
Upgrading the database
Module 7: MongoDB: Backup and Security
Concept of backups
mongoexport/mongoimport
mongodump/mongorestore
Oplog backups
LVM Backups
Backups using MMS/Ops Manager
Purpose of security
Authentication and authorization
Role based access control
Module 8: Replication in MongoDB
Concept of replication
ReplicaSet member roles
Voting and Electing primary
Role of Oplog in replication
Read and Write Concern
Arbiter,Hidden and Delayed replica node
Priority settings
Replicaset nodes health check
Concept of resyncing the nodes
Rollbacks during failover
Keyfile authentication
Module 9: MongoDB Scalability
Concept of Scalability
Sharding concept
Shardkey and Chunks
Choosing shardkey
Sharding components
Types of Sharding
Balanced data distribution
Sharded and Non-sharded collection
Sharded Replicaset
Tag aware sharding
Module 10: MongoDB Monitoring and Other Tools
MMS Manager
Ops Manager
Mongo utility commands
Mongo developer tools
MongoDB Atlas
MongoDB client drivers
Download MongoDB Syllabus
Course Highlights

Since 2001, Making IT Experts by Experts
Duration: 90 Hours

(Vary as per your skill)

Course Fees
Individual Live Classes (1:1)
Training on Your Time, Any Where
Access to Recorded Videos
Practical Internship on Projects
100% Placement Support by our jobsNEAR.in
Training/Internship Certificate

Featured Courses
Related Courses
MongoDB Jobs in Launceston
Enjoy the demand
Find jobs related to MongoDB in search engines (Google, Bing, Yahoo) and recruitment websites (monsterindia, placementindia, naukri, jobsNEAR.in, indeed.co.in, shine.com etc.) based in Launceston, chennai and europe countries. You can find many jobs for freshers related to the job positions in Launceston.
Full Stack Developer
Databases Specialist
Database Admin
Consulting Engineer
Database Engineer
MongoDB Engineer
Database Administrator
Technology Engineer
Consulting Engineer
MongoDB Trainer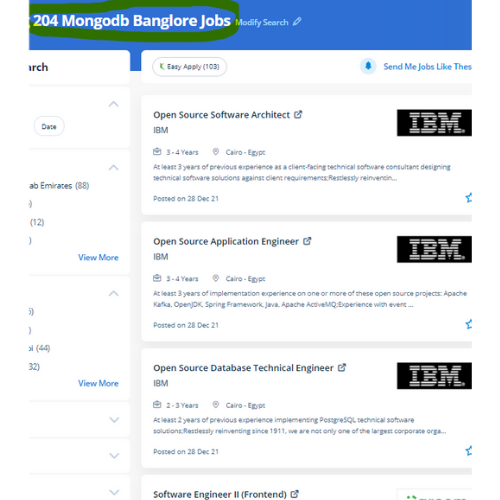 MongoDB Internship/Course Details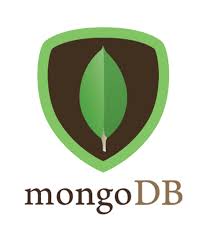 e. MongoDB might be a document-based, distributed database designed for modern application developers. Relative databases have rigid schemes that limit flexibility with the data structure. The CRUD operations are related to many further choices. All the information is kept in JSON format, i. Any organization has this database to store dynamic data in the cloud and on-premises environments. MongoDB could be a collection of documents, it contains a group of key-value pairs. this will be possible with MongoDB, which can be as versatile because it's powerful. the two situations that it addresses specifically are indexes that don't work into memory and write-heavy data. It provides high performance, high accessibility, and automatic scaling to provide effective assortment Operations.
Success Stories
The enviable salary packages and track record of our previous students are the proof of our excellence. Please go through our students' reviews about our training methods and faculty and compare it to the recorded video classes that most of the other institutes offer. See for yourself how TechnoMaster is truly unique.
I am very relieved at the experience of learning at Nestsoft Technologies, which has helped me to bring my skills up and give me a better path, and I am very satisfied with the faculty that lead me to complete the course. Thanks to Nestoft
We have achieved a very level of knowledge from here about python and Machine Language within a short period of time.This was very helpful for our future .
I am very happy that I have chosen Nestsoft Technologies for my PHP training. It is a good experience to feel like being in an IT company while getting training. Thanks to Nestsoft Technologies and all its faculties for all the efforts.
The experience of Nestsoft Technologies as an SEO / Digital Marketing intern was excellent. The faculty was a great help to us. They were highly qualified and specialized in subjects. Thank you for your help !!!!
Nestsoft technologies helped me shape my career in digital marketing, and thanks to the highly qualified and friendly trainers, I must say this is the best digital marketing internship you can get.
It was good learning experience, was able to explore and discover new aspects in woocomerce.
It was a great experience to be with Nestsoft Technology. Training has greatly helped me improve my knowledge. Thank you Nestsoft.
Nestoft Technologies offered practical-based training on this SEO / Digital Marketing and Project Exposure. The training experience was very different and unique from any training organization. Thanks to Nestsoft Technology for all the support and concern.
There are many institutes that are trained in Seo , but Nestsoft Technology is different as they and provide a professional environment. This experience enabled me to work at an experience level, get a position as a Seo and successfully launch my career.
I am very happy that I have chosen Nestsoft Technologies for my SEO/digital marketing training. It is a good experience to feel like being in an IT company while getting training. Thanks to Nestsoft Technologies and all its faculties for all the efforts.
Hi, this is Abdul Rashad, I did PHP course at Nestsoft Technologies. I learned heaps from my trainer also I impressed with their teaching. They take categories with their time period comes. thank you so much.
I had done seo digital marketing training on real websites from the expert of kerala. Best classes and friendly trainer.
The classes are very good. The staff is well Experienced kind and friendly. I joined here with no knowledge of SEO, and now I have a better knowledge of digital marketing.
I did my internship at Nestsoft Technologies it had been extraordinary. I learned PHP, digital marketing and web designing. Thanks Nestsoft
I had a best knowledge in Python Machine Learning and best internship with them, these guys are providing best classes with a minimum time.
Hii.My self Siddiq P.A, I have done Seo/Digital Marketing Training in Nestsoft Technologies. it absolutely was an awesome expertise for me. because my trainer gave full support for me and that they gave the explanation for all my doubts patiently. i would like to thank my trainer and also thanks Nestsoft Technologies.
Studying with Nestsoft Technology is valuable and increases my knowledge in digital marketing and SEO. Nestsoft Technology offers its students a blend of theory and practical experience. The quality of training is exceptional.
Hi this is Muhammad. the faculties at Nestsoft is incredibly co-operative, They were responding to doubts terribly very effective way. i am happy with the trainers and with their training. In future, i'll proudly suggest my friends. I thank trainers for providing me the best coaching in Asp.net.
Well python class, machine language etc
Well experienced faculties. They explains very well. Very much recommend.
Very good teaching and best experience ever had. Friendly mam! Learned python machine learning.
Best internships on python, machine learning, django
I am very happy that I have chosen Nestsoft Technologies for my digital marketing training. The training is very good exposure for freshers to become skilled. The trainers are also well-experienced working professionals of Nestsoft Technologies, which is the highlight of the training. Thank you all for your help..!!!!
Well python class, machine language etc
Python ( ML&AI) The classes are good. The staff and teachers are very friendly. Overall was a good experience.
I am very happy that I have chosen Nestsoft Technologies for my PHP training. It is a good experience to feel like being in an IT company while getting training. Thanks to Nestsoft Technologies and all its faculties for all the efforts.
Myself Riya Sara Rejy. i would like to create a career in Facebook coaching, so I joined coaching at this institute. I learn many techniques from this institute. many thanks most Sreena miss for your effort.
I just did ten day course here on python machine learning and it was a good experience for me. Communication quality was great.
Most institutes offer only a custom based theory training .But nest soft offered different..soon I joined with them including training and internship .after 3 months training they given me lot of practical projects through internship .I recommend everyone Nestsoft who think about the serious practical training in Digital marketing and SEO
List of Training Institutes / Companies in Launceston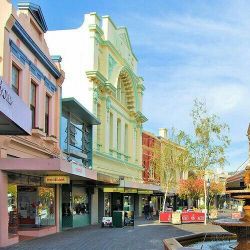 The Launceston Historical Society is very active, publishing , annual conference papers since 1990 and occasional papers since 1995. Although there is no complete and entirely reliable history of Launceston, numerous documents, articles, books and reports have been prepared and published on various aspects of the district's history since 1798. The remainder was originally written by Natalie Cervant and edited by Ian Terry, with additional material added occasionally. At the same time, Launceston's economy was boosted by the discovery and exploitation of rich mining areas in western and north-eastern Tasmania, and the city became the colony's main trading centre. Records held by the Community History Museum of the Queen Victoria Museum Launceston Heritage Study: Thematic History Paul Davies Pty Ltd 3 and Art Gallery and the Local Studies Centre at the Launceston City Library were also extensively used. To this end, the Archives of Tasmania and Libraries of Tasmania Index were consulted for relevant documents, photographs and maps. 1, 2. These papers, along with a further , papers, provided the main source of information for this study. is not the final date for the study area. This is complemented by a vibrant Council regarded as one of Australia's best and most innovative local authorities offering its citizens parks, museums, art galleries and social services since 1900, a modern water treatment system residual and hydroelectric power.